The Genealogy Research of Lynne Roberts
Scrapbooks: Dorsey and Porter Daughters and Family at Minnehaha Falls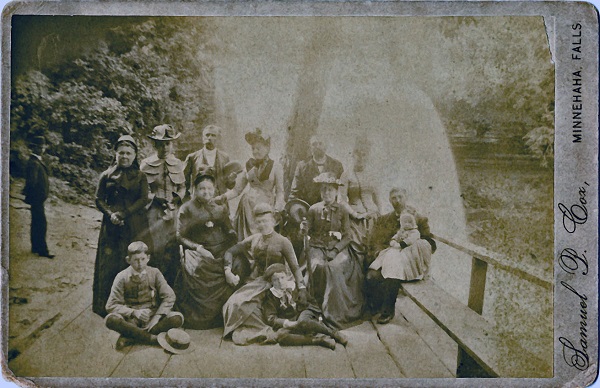 Based on information on the back of the photo (from Ellen Morton Harrison Roberts to Abby Hammond Roberts) the group is as follows: Front row from left — Unknown boy, Nannie Dorsey Porter, Gilchrist Porter Roberts; Second row from left — Comfort Worthington Dorsey Porter, another Dorsey sister, possibly Annie, Aaron Righter Levering holding Aaron Levering Smith; Back Row standing — Mary Snowden Dorsey Broadhead, Nannie Broadhead, James O. Broadhead, Ella Porter Levering, William Smith, and Comfort Porter Smith.
Minnehaha Falls is located at Minneapolis, Minnesota on the Mississippi River, where they lived — in either Hannibal, Clarksville, or St. Louis, Missouri.
More Info
Contact me for questions, corrections and contributions to this research.