The Genealogy Research of Lynne Roberts
Scrapbooks: The Family of Gilchrist and Comfort (Dorsey) Porter I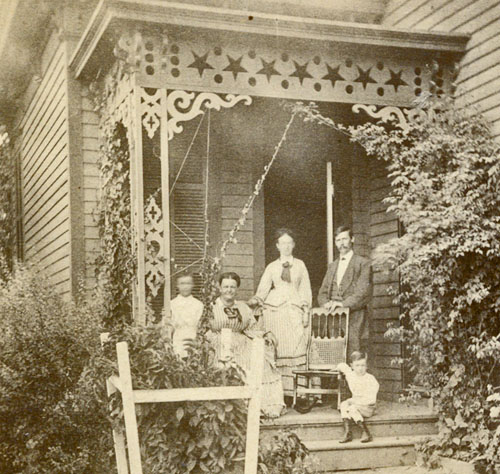 The Gilchrist Porter House, Hannibal, Marion, MO — taken about 1884
From left: unknown boy named Aaron; Comfort Worthington Dorsey Porter; Mary Eleanor (Dorsey) Levering (Comfort's daughter); Charles Urquart Porter (Comfort's son); and seated in front on step, "Gillie" Roberts (Gilchrist Porter Roberts, Comfort's grandson).
This would have been after Julia (Porter) Roberts' death in 1883 when her children, including Gillie, were sent to Hannibal to be raised by their grandparents.
More Info
Contact me for questions, corrections and contributions to this research.