The Genealogy Research of Lynne Roberts
Scrapbooks: Hammonds and Family Traveling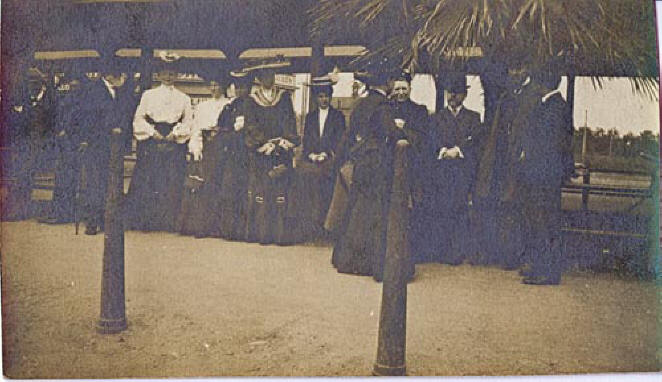 Mostly family — at an unknown train station — but dressed to travel
From woman in white shirt on left to right: Edwa Worthington Dorsey Ewing, Mame Wilhoit, Elizabeth Bodley Brown, unknown woman, Lesley Hammond, Mary Garvin Brown (hidden next to Lesley), unknown woman with back to camera, Emma (Ray) Hammond, Robert Ray Hammond, Samuel Langdon, Gilchrist Porter Roberts. The name Agnes Hunter is also listed on the back of the picture — may be woman with back to camera.
Based on the ages of those in the picture, I assume it was taken about 1902 - 1905.
No name is provided for the tall woman between Elizabeth and Lesley — I believe it is Abby Marble Hammond.
More Info
Contact me for questions, corrections and contributions to this research.